Lake Granbury Art Association – annual Fall Show & Fall Schedule
Views: 116
LGAA Commemorating 50 Years!!
Now showing, our annual Fall Show, exhibiting about 50 works of art from all over the country.
It's been a while since we've had a chat and there's much to talk about! We've been busy, I mean REALLY busy, with the shows, the 50th celebration (where we had over 100 in attendance – we were so thrilled!), Last Saturday Gallery Nights, Fall Show prep (LOTS of prep) and hanging, and on and on. Many thanks to Kay & Dick Wirz, Vickie Guthrie and Sheri Jones for all their work in presenting the Fall Show!

Speaking of the Fall Show, there are some fabulous donors we'd like to recognize. When you're out and about, tell 'em how much we appreciate their generosity:

Award Sponsors:
Charles Inge Memorial Award – Dominique Inge
HEB, West Bluff Dental Care (Dr. Alex Smith DDS), Granbury Arts Alliance, Elevate Realty Group, Cheyne Eye Center, Christian Brothers Automotive, Van Griffith Kia, Granbury Appliance and Flooring (Mr. & Mrs. Joe Shepard), Troy Vinson Jewelers, Read Fine Art Gallery – Cleburne, David Eagle, First National Bank – Granbury, Granbury Dental Center, Laura Wilson, Freedom Physical Therapy, Tim & Beth Eschbach, George & Vickie Guthrie

Service Support Donors:
Pastafina Italian Ristorante, Rebecca Zook Creative Studio

The coming couple of months will be even busier for us artists, as there are so many events planned that will showcase our art: LGAA's 6×6 Scramble, Harvest Moons for the festival, donated artwork for the Children's Creative Station also at the fest, and our Winter Show.

Dates to remember:
This Monday, September 12, LGAA Monthly Meeting featuring Pam Carricker, Mixed Media
September 17, Saturday, Pam Carricker's workshop, Embracing Your Selfie
September 24, Saturday, Fall Show Reception, 6-8pm
October 5th, Wednesday, Stumpy's Chow Down for Charity, 10% of the day's proceeds will be donated to LGAA. Pig Out!
October 10th, Monday, Monthly Meeting.  
6×6 Scramble: Canvases due so we can get a feel of how we need to set up the tent for the Fest. We will be on the square this year (Yay!!) and not hidden in a corner, so we anticipate a LOT of viewers… 
Harvest Moons: If you have a moon/s checked out, it should be completed and returned by the 10th. Donated art work for the Children's Creation Station at Harvest Moon is also due. Turn in moons and donated artwork to Cool Junk, 113 N Cleburne St. (look for the Volkswagen out front). 
October 11 – 13, Tuesday – Thursday, Paula Nemec Workshop, Passion, Process & Possibilities
October 15 & 16, Saturday and Sunday, Harvest Moon Festival downtown, Granbury
.October 29, Saturday, Last Saturday Gallery Night, Bonnie Bird and Pamela Brewster are scheduled to docent, come join in the festivities for the last day of the Fall Show.
November 1 – 2, Tuesday & Wednesday, Winter Show drop off*. That's a lot, we know, and we want you to prioritize – think 6×6 first. 

*This year LGAA was asked to participate in the Candlelight Tour of Homes/Businesses, Saturday and Sunday, December 3rd and 4th, 6:30 – 9pm, with VIP night on the Friday before. Of course, we think that ART is the proper decoration, so we need some to fill the gallery (we will decorate the stairway – red and white theme). The current show closes on October 29, then we need to have art hung again soon thereafter. The board chose the theme of Spiritual, Holiday, Winter. Think you could manage some pieces? The gallery only holds about 50 pieces, so we'd like to ask you to contribute 1 large (36″x36″ max), or 2 smalls (one or the other). This is a group show, so no prizes, just a hearty handshake and a pat on the back for your contribution. We LOVE our artists work, and the whole town will know why with this show!  

Membership Report
We have 170 memberships, and have gotten many new members, why?, because we're awesome! Yes, you all are making this an association to envy. Here's a link to the current roster:

Last Saturday Gallery Nights
We are still in need of a chair for this position, and it's an important one to our club. The gallery needs to be open when there is interest in viewing (and maybe buying!) art. The Square has this monthly event and the HGMA (Historic Granbury Merchants Association) has graciously included us in the events, so we need to have representatives here at the Shanley to show visitors around. We're usually open from 6-8pm on the last Saturdays. Please consider volunteering. As mentioned above, Bonnie Bird and Pamela Brewster are scheduled for October 29, and Cat Angle and Lynda Robinson are scheduled for November 26 (Thanksgiving weekend).Shanley offers these opportunities when the studio is not in use for a workshop:
 
MEAD – Monday Experimental Art Day
Instructor: Karen Foster
When: Third Mondays, 12:30 to 4pm, $50

Tuesdays with Kathy Yoders
Bring your work and supplies and Kathy will assist you
1-4pm, $20
Artist of the Month
Below is an example of artwork displayed in a local bank (Independent Financial in Acton). At each monthly meeting, we ask our artists to provide a piece of art to be displayed for one month at one of 6 area banks that participate in the art display program. If you haven't participated, we'd love to see your work in a bank.

.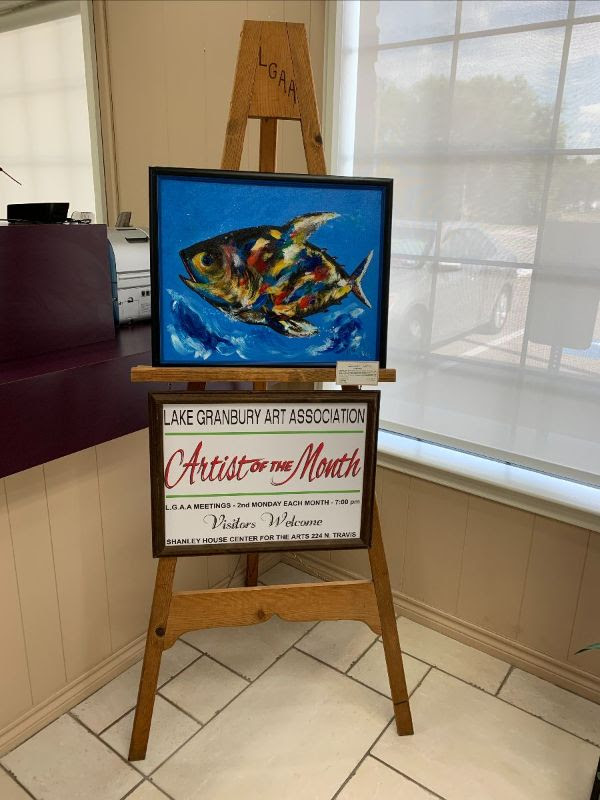 AGAPE

Our VP in charge of membership, Betty Pickard, established AGAPE back at the first of the year. Since then, we have gone through a few cards and are in need of more. So, if you can make some arty cards, we'd really appreciate the donation for this cause.

To refresh your memory about this mission:
Purpose: To promote friendship among members of LGAA and to act on the behalf of the LGAA membership in expressing sympathy, condolences, get-well wishes, as appropriate, to members who have lost a loved one, had surgery or required hospitalization for an illness.A card will be sent when a member has lost an immediate family member. Immediate refers to a child, spouse, parent or significant other. We will use cards created and donated by LGAA members for this purpose. LGAA will provide postage. All LGAA members are partners of this Friendship committee and should notify the committee chair when they know of a fellow member for whom LGAA needs to reach out.  'Please notify Bonnie Bird, bonniemcclurg@charter.net when you become aware that a card needs to be sent.  That's all for now. We'll be sending more news as needed. And, if you have any ideas for our club, just give us a holler. –Doris