Featured Artist: Jesse Sierra Hernandez
Out of Focus is on display until May 5, 2018
Above:
Jesse Sierra Hernandez on March 20, readying his works on display just in time for 2018's Spring Gallery Night, March 24. Photography: Rodger Mallison 
rmallison@star-telegram.com

Fort Worth, TX—Jesse Sierra Hernandez is an accomplished Fort Worth artist whose work ranges from smaller works on paper to large-scale oil paintings, which depict religious icons, political themes and women, clothed and unclothed.
Hernandez has struggled with a stutter ever since he was a child and began drawing and painting to serve as a voice that didn't require speaking. This voice grew louder as he began oil painting in 1992 and started to pursue themes of the human form, religion and social observations within a museum setting. Jesse is inspired by his personal convictions, plus admiration for Baroque artists. He was born and raised in Fort Worth, Texas. His work has been shown in over a dozen solo and group exhibitions, including Gallery 414 'Inside The Lines' (2015).
He initially received his education in commercial art and studied under illustrator Don Punchatz from 1991 to 1995. In addition to painting, Hernandez is the Senior Preparator for the Kimbell Art Museum, a position he has held since 2001. Prior to that, he served as curator and art director for Fort Worth's Studio 4 gallery and 7th Street Gallery.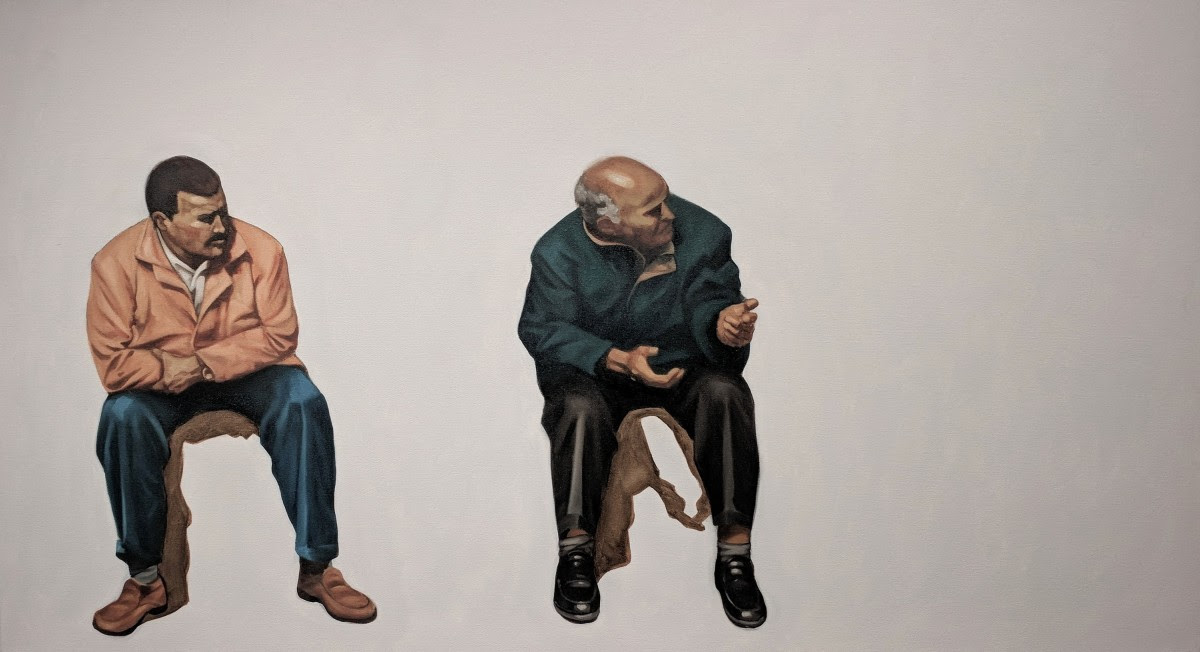 Jesse Sierra Hernandez, Dos Hermanos , 2018
Please join us for out artist talk on Wednesday, April 18th from 6 – 7pm to hear more directly from Jesse, along with Fabiola Valenzuela.
 "Through mixed medium representations that showcase Latinx roots, sociopolitics, and personal claims of culture. Out Of Focus' unique installations and multi-faceted work poses a first generation perspective of displacement."
Fort Works Art is committed to bringing life, vitality and energy to the art scene in Fort Worth, TX. They are a resource for both seasoned collectors and the everyday individual. Existing somewhere between a gallery, a cultural center and a museum, Fort Works Art strives to continually evolve into its own entity, free from the traditional labels of the art world. They exist to support the arts, to give back to the community and to inspire youth.
Fort Works Art 
2100 Montgomery Street
Fort Worth, Texas, 76107
Gallery Hours: Tuesday – Friday 11 am – 5 pm; Saturday 10 am – 6 pm