Spring Gallery Night 2017
Saturday, March 25, 2017

;

6pm – 9pm
free and open to the public
FORT WORTH COMMUNITY ARTS CENTER
1300 Gendy Street, Fort Worth, TX 76107
fwcac.com
Gallery 3: Ties That Bind

by Henry Rayburn, Claudine Rayburne Marion,

Charla Marion Pavlik, Camilla Marion Bloom &

James Rayburne White

Gallery 4: Fort Worth Inspired

by Doug Clark

Back Gallery: A Passion for Colors

by Niki Gulley, Vickie Guthrie, Shirley Kinworthy,

Lynn LaRose, Melodee Martin Ramirez, Cecy Turner, Lesley Talty, Irma Ward & Margie Whittington

 

Gallery 9: Visions of an Indigenous Caribbean

by Alejo Deleon

 

Focus Gallery One: The Minimalist Landscape

 

Focus Gallery Two: Blooms

by Katherine Toon
Front Gallery: Texas Pottery & Sculpture Guild Sale & Exhibit
Reception & Sale: 
March 25, 2017
;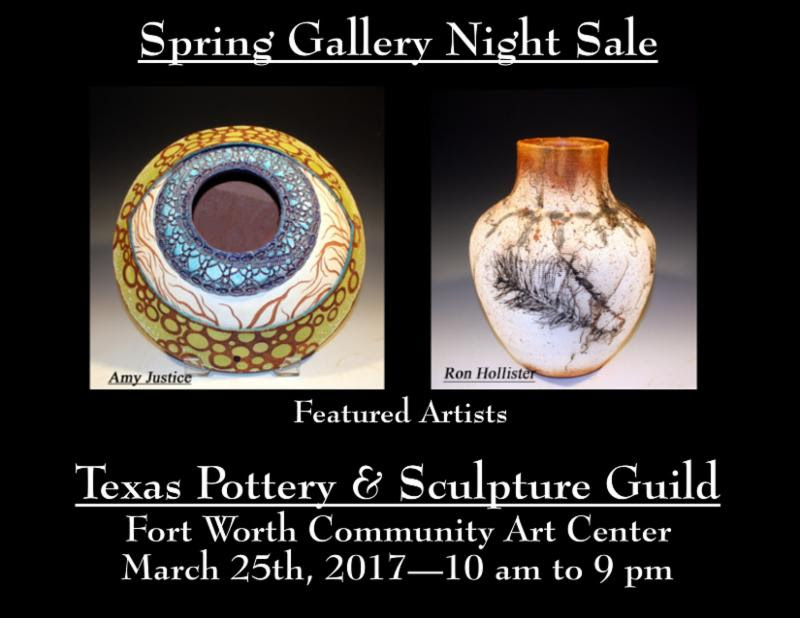 Art7 Gallery:
Surfaces
by Elise Eeraerts
Art7 Gallery:
Symmetry

by Laure Willig

Art7 Gallery
2955 Crockett St,
Fort Worth, TX 76107
Artist Opportunities
Solo Show[Down]
Call to Artists: International juried call to artists, open to all disciplines with no theme. The Fort Worth Community Arts Center is proud to present the First Annual Solo Show[Down]. Grand Prize Winner: Solo Show in our Main Gallery at Art7, a storefront gallery located on Crockett St. in Fort Worth's bustling 7th Street area. The Grand Prize winner will also receive a honorarium yet to be determined. Runners Up: Group exhibition occurring simultaneously as the solo show in the Back section of the Art7. People's Choice: Single artist who receives the most likes on Facebook will receive a cash prize yet to be determined. For more info click here
.
Imagination 60
PLEASE JOIN US on MAY 7, 2017. Seeking Artists/Performers, Comedians, Visionaries. Imagination 60 is back for the 2nd year! Imagination Fort Worth needs YOU and your special talent for 60 seconds. That's Right!  Just One Minute! A chance to demonstrate your imagination & CREATIVITy For a raucously fun-filled fundraising event in Fort Worth. When:  Sunday, May 7, 2017 at 6 PM. Where: The "Ridglea Room" at The Ridglea Theater. Be wild, crazy, bawdy, political, comical, clever, musical, elegant, unpredictable, original …. Entertaining in any form you choose! A simple Concept: Each Solo performance on stage in The Ridglea Room. 60 seconds, back to back in rapid succession. We need your HELP to raise new funds for the purpose of providing unique, educational programs that integrate arts with classroom curriculum for 55,000 + school children from Pre-K – High School in 2017. The deadline for submissions is April 1, 2017. For more info click here
.
Artspace111
Artspace111 is pleased to announce an open call for submissions for the 4th Annual Artspace111 Regional Juried Exhibition, juried by Shirley Reece-Hughes, a Curator of Painting and Sculpture at the Amon Carter Museum of American Art. The competition includes eligibility for 2D and 3D artwork. The exhibition will be open June 23rd through July 22nd with an opening reception on the evening of June 23rd. Due date for entries is May 31st. Contemporary 2D and 3D works that follow the requirements detailed in the prospectus are accepted. Over $2000 will be awarded to the best works in show, and the first prize will include the opportunity to exhibit at Artspace111 in a separate solo or group show in 2017 – 2018. For more info click here
.
The Texas Biennial
The Texas Biennial is an independent survey of contemporary art in Texas, founded to provide an exhibition opportunity open to all artists living and working in the state. The sixth edition of the Biennial will take place in the fall of 2017, with a series of exhibitions focused on relevant conversations around the state, and parallel programming at venues across the state. The deadline for submissions is May 31, 2017. For more info click here
.
The Texas Artists Coalition
The Texas Artists Coalition is a membership program designed to offer benefits for artists in the North Texas community. The mission of the TAC is to support the career development of artists, whether they are emerging or established, amateur or professional. Programs of the TAC are supported by the Arts Council of Fort Worth, the Fort Worth Community Arts Center and a grant from the Texas Commission on the Arts.