Contemporary Art Dealers of Dallas present
CADD Bus Tour
Wednesday, January 29th, 2:00 PM
CADD has been promoting the visual arts through unique programming since 2006 and the bus tours have been going strong since 2010. Tour participants gain access to artist studios, member galleries, private and corporate collections, art installations and very special trips! Buy a ticket and hop on the bus!
The bus tour begins at 2 p.m. on Wednesday January 29th at CADD member Cohn Drennan Contemporary at 1107 Dragon Street in the heart of the Dallas Design District. Please park and enter the gallery for refreshments and browse the exhibits by Jay Hendrick and Shawn Saumell. The bus will depart for Denton promptly at 2:45 p.m.
Your first stop will be UNT's Gallery on the Square where guests will get to preview the exhibition Kiki Smith: Transformations. Kiki Smith is an internationally renowned sculptor and printmaker and this year's artist-in-residence at UNT.  Smith began her UNT residency in the fall of 2013. While at UNT, she has been working with students and visiting classes to talk about her work. Throughout her residency, she will be making a large-scale print celebrating Texas wildflowers.
Known for her sculptures and prints, which often focus on female iconography, Kiki Smith's artwork is in collections throughout the world including the Art Institute of Chicago, Corcoran Gallery of Art in Washington, D.C., Victoria and Albert Museum in London, and the Whitney Museum of American Art and the Metropolitan Museum of Art in New York City.  Smith received a Department of State Medal of the Arts Award in 2012.
The gallery visit will be followed by dinner and refreshments near the UNT campus. From there guests will attend the Kiki Smith Lecture at UNT in reserved seating. The bus will depart for Dallas immediately following to arrive at Cohn Drennan Contemporary at approximately 9 p.m.
---
TICKETS – 75$
---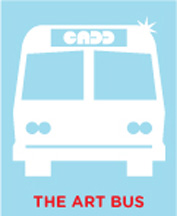 Tickets are $75 per person. Seating is limited.
Click here to purchase tickets or visit www.caddallas.net.
Guests are provided with bus transport, dinner, lecture, and refreshments.
For more information about the WED. Jan. 29 bus tour email: cohn@cohndrennancontemporary.com.
---
ITINERARY – WEDNESDAY, JANUARY 29
---
2 pm  Meet at Cohn Drennan Contemporary – 1107 Dragon St, Dallas, TX 75207
2:45   Depart for Denton
4:00   View the Kiki Smith exhibition at UNT on the Square
5:30   Dinner
7:00   Attend Kiki Smith Lecture at UNT (reserved seating)
8:15   Depart for Dallas
9 PM   Cohn Drennan Contemporary
---
ABOUT CADD
---
Contemporary Art Dealers of Dallas (CADD) is a non-profit membership organization of galleries formed in 2006 for the purpose of promoting the advancement of contemporary art on all levels. Members are committed to represent the highest standards of contemporary art, while recognizing the importance of integrity and responsibility in working with artists, collectors, museum professionals, and the cultural community of Dallas.
Each year CADD offers a Scholarship to a graduating high school senior from Booker T. Washington High School for the Performing and Visual Arts. The Scholarship is awarded to a student pursuing a Fine Arts degree at an accredited university or art institute. The scholarship may be used for tuition, books, equipment, travel, and/or supplies assisting the student in their academic endeavors. Proceeds from CADD events assists with the CADD Scholarship and CADD Educational Programs.